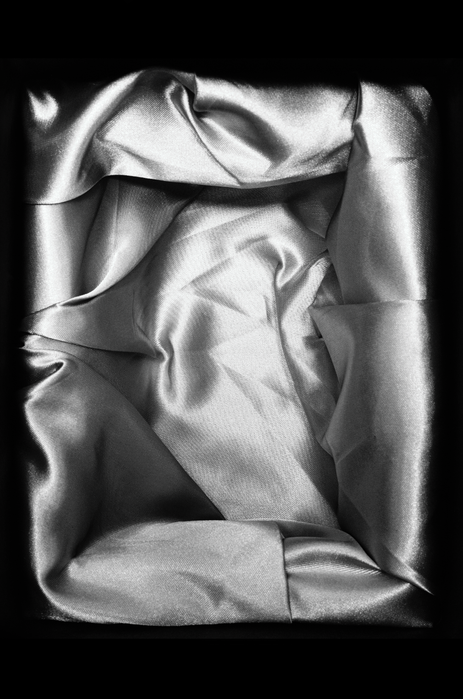 The Dark I Cannot Name (Borges), 2018.

"... Downstream drift flowers that children tore off in play; out of their open fingers fell one, then another, until the bouquet had lost all shape. Until the remnant they brought home was only fit to burn. Then of course the whole night, when they all think one asleep, one could weep for the broken flowers. "

Requiem
Rainer Maria Rilke
二零一一年春天,在外公過世兩個月後,我夢見了他。在夢裡,我爬上一段扭曲變形的長梯,外公坐在那上面。見到他後,我忍不住哭了。外公問我為什麼哭,我回答:「因為我很愛你,可是你已經不在了。」外公說:「那就不是時間的問題了。」
七年過去了。
死亡帶來的後座力,除了悲傷,更多的是困惑。我的眼前打開了一個無底洞,而那裡發出了難解的籲求。我嘗試接近那神秘,卻總像在追逐一個會消失的影。
時間及空間、亡者及被留下來的人、愛和那些無法說明的情感。與其說是我主動拍攝他們,不如說是他們從洞裡召喚了我。那雖然是我拍攝的,但同時也變成了超越我理解範圍的東西。
這一系列作品是我對生命的探問。我原以為我能夠用照片解答,讓他們帶領我去靠近生命的核心。但後來發現他們只是一發發擊向黑暗中的子彈,而我所擁有的只有一雙眷戀的眼睛以及不願閉上眼的意志。
如果我們真的能夠以攝影溝通,如果這些照片能讓某個人的內在有所感應,在那心靈需要被表達之處,他們就存在最好的地方。
In the spring of 2011, two months after the passing of my grandfather, I dreamt of him. In my dream, I was climbing up a flight of winding and distorted stairs; my grandfather was sitting at the top. I couldn't help but burst into tears at the sight of him. Grandfather asked why I was crying. I answered, "Because you're not here anymore." He replied, "Then it's not an issue of time."

Seven years have since passed.
Death has taken its toll; beyond the sadness lies even more confusion. A bottomless hole has opened up before me and from it, something I do not understand beckons and implores. I sought to get closer to that mystery, but it eludes me like a disappearing shadow.
Time and space; the dearly departed and those left to live; love and inexplicable emotions. Instead of saying that I actively recorded these things, it would be more fitting to say that they summoned me from that bottomless hole. I did photograph them, but they have also become that which transcends my understanding.
This series of works is my personal inquiry into life. I thought that pictures held the answers to my questions and that they would lead me to the core of life. Yet, I discovered that taking pictures is like shooting bullets in the dark; all I had were eyes that yearn for answers and refuse to be closed.
If we can truly communicate via photography, if pictures can be felt by someone on an intrinsic level where the spirit longs to be expressed, then photography is exactly what it ought to be.