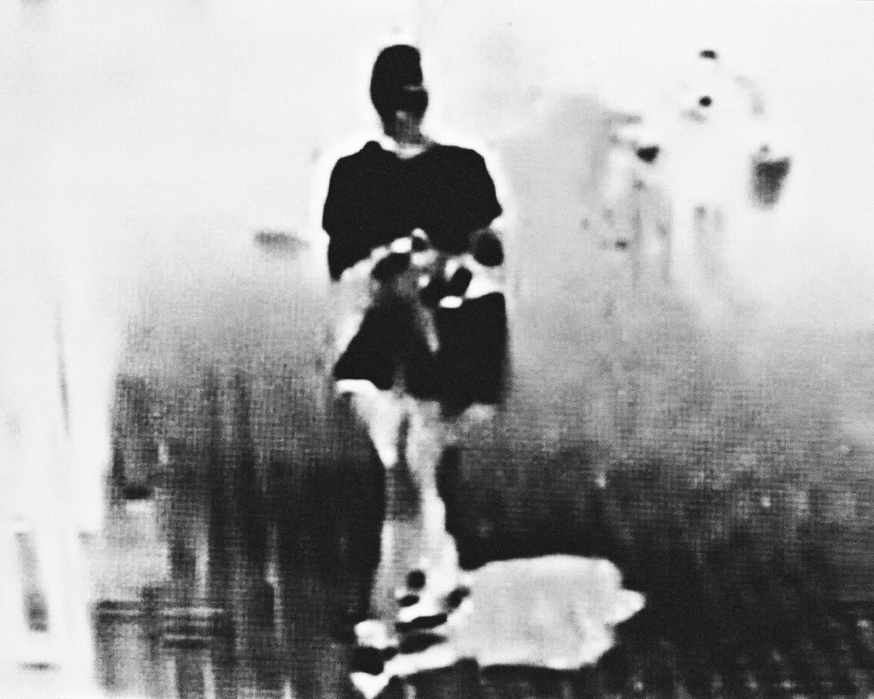 「死去的可能是我。」
--------------------------------------------
「最後身影」是由翻拍的監視影像及被破壞過的日常場所影像所構成。此系列作品欲彰顯的不僅是性別中的暴力及不對等的權力,也試圖捕捉在性與暴力背後的女性處境,及在生存狀態中所需要面對的死亡陰影。
監視影像中為發生於臺灣情殺案件中女被害者的「最後身影」,錄影監視系統的設置,本應用來維護社會安全和預防犯罪,卻也記錄了死亡發生前的經過。藉由翻拍監視影像,本作品欲探討社會運作結構及媒體敘事框架之中,觀者對於暴力及悲劇的理解和想像。
作品的另一部分,我拍攝了由警政單位所發布的婦幼安全警示地點,這些地方對集體女性而言,亦是對人身安全具有威脅性的場所;我接著將曾真實發生的性暴力犯罪方式,例如:刀割、槍擊、扼殺等,施加至這些場所的影像之上。在完全黑暗中實際操作不同暴行至尚未顯影的大型底片上,而後經由藥水沖洗使潛隱的暴力及創傷現形。浸泡過底片的藥水變了色,被破壞的底片也在顯影後留下了污點和缺口,像打開了採集跡證的鑑識燈,昭然若揭。
無人的地下道、一座停車場、被迫失去生命的女人,這是由現實的暴力和消逝的生命交織而成的、被視而不見的,關於女人的痛史。
"It could be me who died."
--------------------------------------------

"Last Seen" consists of reprographic copies of surveillance images and the destroyed images of ordinary places. In this series of works, I intend to not only manifest the violence and unequal power in gender, but also capture the situation of women behind sex and violence, and the shadow of death one should face in the existing states.
Those surveillance images present "the last images" of the female victims in crimes of passion during the past ten years in Taiwan. The video surveillance system was set up to ensure security and to prevent crime in society; meanwhile, it also records the whole course before the deadly incident. Through making reprography of the surveillance images, this work aims to discuss the viewers' understanding and imagination of violence and tragedy within the social structure and the media narrative framework.


In another part of the work, I photographed the safety alert places that issued by the Police. For the female, these places are threats to personal security. Then, I applied the methods used in actual sexual crimes to the images, such as slashing, gun-shooting, and strangling. These acts of violence were made to undeveloped 4x5 films in complete darkness. The invisible violence and wound became visible through the process of developing afterwards. The color of the chemicals changed after soaking the films, and the damaged films reveal the stains and breaches after the development. It is like turning on the investigation light, and everything could be seen at a glance.
Deserted underpasses, a parking lot, and women who are forced to lose their lives -- this is the invisible history of pain in women that mingles the violence of reality and departing lives.